Petsmile Supersmile Family Bundle
$25.60
$32.00
saving
$6.40
Translation missing: en.products.product.price_per_unit_html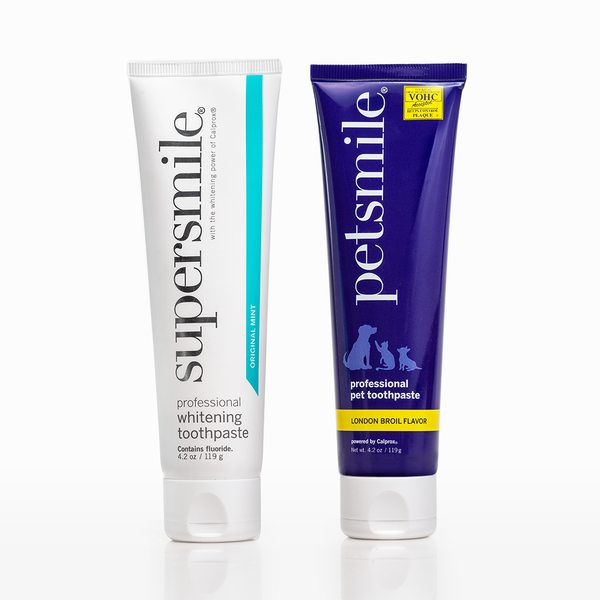 Petsmile Supersmile Family Bundle
$25.60
$32.00
saving
$6.40
Translation missing: en.products.product.price_per_unit_html
supersmile x petsmile Family Bundle provides premium dental care for humans and their pets. Includes Professional Whitening Toothpaste and Professional Pet Toothpaste.
Powered by Calprox®, Professional Whitening Toothpaste by supersmile is clinically proven to whiten and effectively removes plaque and bacteria without sensitivity. Professional Whitening Toothpaste remineralizes + restores enamel, and is safe to use on dental restorations. On a dry toothbrush, place a pearl-size drop of Professional Whitening Toothpaste. Brush in circular motions for 2 minutes, twice daily. The cool, crisp and refreshing Original Mint flavor will leave you with a long-lasting, clean feeling and your own super smile.
Whitens teeth without sensitivity.

Restores bonding, crowns, veneers, and dentures to their original shade.

Remineralizes and restores enamel.

Fluoride, calcium and phosphates help build additional strength while fighting cavities.

Inhibits plaque 10X better than leading plaque-removing toothpastes.

Professional Whitening Toothpaste is 75% less abrasive than the limit set by the ADA. (On a scale of 0-250, this scores a 65).

Made in the USA.

4.2 Ounce Tube - 3 Month Supply.
The only clinically proven plaque and tartar control toothpaste accepted by the Veterinary Oral Health Council (VOHC), Professional Pet Toothpaste is easy to use and your pets will love the London Broil flavor. Simply apply to your pet's teeth and let their tongue do the rest. Made with human grade ingredients.
Only VOHC (Veterinary Oral Health Council) Accepted Toothpaste with Calprox for Plaque Inhibition.

Clinically Proven Results to Improve your Pet's Health.

Easy No Brush Formulated Toothpaste for Cats and Dogs.

62% Greater Reduction in Plaque.

28% Greater Reduction in Gingivitis.

Formulated with Human Grade Ingredients.

BPA-free, silica-free, sulfate-free, paraben-free, gluten-free, allergy-free and vegan.

Made in the USA.

4.2 Ounce Tube - 6 Month Supply.